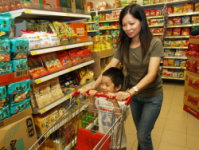 Social Adaptation Training
Heep Hong Society is committed to enhancing the social adaptation abilities of children with special needs through systematic training in the hope that children could get used to community environment, and establish proper mode of cognition and behaviours. The social adaptation training is divided into three modules: first is basic skill training in classrooms, followed by simulating activities to increase their successful experience. Finally, they will be shepherded to community for real practice.
In recent years, Heep Hong received sponsorships from the Rotary Club of Hong Kong, Pfizer Nutrition, Grand Hyatt of Hong Kong, Wellcome, Genting Hong Kong and Love Ideas Love HK Programme to conduct diversified social adaptation training at centres; and joined hands with partners in the community to provide practice opportunities, e.g. having haircuts in salons, eating in fast-food shops, seeing dentists in clinics, going to parks, shopping in supermarkets, playing in amusement parks, taking public transport, etc.. All these training activities have been applauded by parents.
Taking movie watching as an example, prior to the training activities, it was difficult for parents of Yu Ming Centre to go to the cinemas with their children. One fourth of them had never watched any film with their children before. After the training activities, nearly 60% parents expressed that their children are able to queue up for tickets, be seated quietly and stayed calm throughout the film-watching process. Over 80% parents interviewed, via the activities, learned more about the needs of their children and acquired the skills to cope with their behvioural and emotional problems through the activities. Both their motivation to take children out and the parent-child relationship have been forged.
Even for activities as challenging as seeing dentists, after carefully orchestrated simulating exercises and repeated practices at centres, many autistic children went through the dental treatments at clinics in an exceptionally calm and helpful manner. The medical staff was amazed at their performances, and one dentist even cut the service fee by half to show his encouragement.