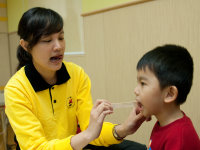 Speech Support Programme for Children with Autism (2010-2012)
Sponsored by the Autism Children Foundation and other donors, Heep Hong launched the Speech Support Programme for Children with Autism in the East New Territories in October 2010. The programme is charged at around one tenth of the private market rate, and further sponsorship is available for families with financial difficulties.
Under the programme, 8 group sessions of speech therapy are given to children with autism on the waiting list. Through intriguing activities, the therapist enhances their comprehension, expression and social-communication skills. Workshops and individual consultation services are also provided to enable parents to train their children's social communication skills outside classes.
Remarkable improvements in participating children's language, emotion and behavioral management skills were observed by their parents. The programme has also transformed many families, lowering the anxiety level of parents, and amending the broken relationship between spouses, children and their grandparents.
On the heels of this programme, services of the same kind were provided by Heep Hong in the New Territories West, Kowloon and on Hong Kong Island, extending immediate help to hundreds more of autistic children in the queue for pre-school training and their families.