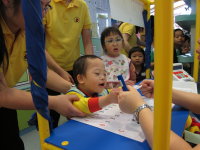 Background
Being healthy, happy and smart is the common wish of parents for their children. Unfortunately, some children beset by developmental disorders, suffer from physical or mental handicap. Failing to express themselves, understand others and establish close interpersonal relationships, their growth process is fraught with frustration and disappointment.
While waiting for government-funded services, many families resort to private training services. But for low-income families, this alternative is out of the question due to financial concerns. Witnessing their children with special needs missing the early opportunities to overcome their developmental problems and develop their potential, parents' heart sink.
If the problems were untreated, children's abilities would remain where they are, and even deteriorate to the extent that self-mutilation is applied to express their dissatisfaction. Many developmental disorders are not curable, yet given timely intervention, the problems could be alleviated and sufferer's abilities could be enhanced immensely. It helps them restore their hope of life and reach their potential to make contribution towards a better society.
Heep Hong Society is seeking to establish the Children and Youth Training Fund in an effort to enable 12,000 children with special needs and their families to participate in social adaptation activities; or 2,000 children with autism waiting for government services to undergo 3-month speech therapy to improve their social communication skills; or 600 underprivileged children with developmental problems to receive 10 sessions of professional training.
Every single dollar you donate to the Children and Youth Training Fund is a shot in the arm of us and our children. Act now and help us solicit support from your friends, relatives and colleagues. Thank you!