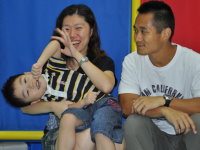 Cheuk-yin and Ching's Stories
Having haircuts, dining out, grocery shopping are relaxing and enjoyable activities for most families, not to mention watching movies, playing on the beach, swimming or cycling. But for autistic children, like Ching and Cheuk-yin, and their parents, all these outings could be something completely different, full of difficulties, struggles and sufferings.
Ching feared hair scissors and dryers, and was afraid of being held in the head by a stylist during the haircut. She squirmed restlessly, screaming and struggling to take her mum out of the salon. It ended up that her mum had to perform the cut while she's sleeping. Dining out in a restaurant was not easy for Ching as well. She could not sit still, always storming out of the restaurant or making a scene if she was caught by her mum.
Ching's Mum recalled, "Once we went on a trip to the Gold Coast in Tuen Mun. When the bus was on the way, she caught a glimpse of the sea and already started yelling and struggling. I escorted her to the beach. She still frequently glanced in the direction of the exit when we were playing in the sand."
As her husband is working across the border, she has to take care of her daughter on her own. Feeling very stressed, she avoids taking Ching out. There might be a few activities she was eager to join outside, but the ideas were finally abandoned in view of the problematic behaviours of her daughter.
Parents of Cheuk-yin, 4 years old, were also in the same predicament. On one weekend, they went to Tai Mei Tuk for cycling. When they are about to hire the bikes, Cheuk-yin got hysterical and insisted on returning home, arousing gossips and unfriendly attention from passers-by. Failing to pacify the child with all their might, the family was forced to return home disappointedly.
"Once we went for swimming. He struggled to turn back at the sight of the waterfall shower at the entrance, and escaped swiftly when I was changing my swimming suit," Cheuk-yin's mum added.
After training at centre, Cheuk-yin's mum said, "His response in next outing was less vigorous, and we could enjoy our family days more often now." Ching's mum also commented, "Thanks to the haircut activities organized by the centre, she got a new and pleasing hair style now."