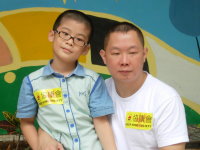 Rex's Story
In 2007 when Dannen Chan heard that his 2-year-old son Rex was diagnosed with autism, his mind went blank instantly. He could not believe what he was told. Although the child often screamed and yelled when seeing a doctor, he behaved exceptionally well during the assessment. The only "little flaw" in his performance might be about following instructions. Yet at that time he thought Rex was just like "catching a cold" and thus his performance was slightly affected. Later, Dannen took Rex to consult other doctors and they all told him that the child "does not look like having autism". Despite being skeptical of Rex's situation, he spared no effort to arrange various therapies for his son hoping that the "cold" could be cured. Yet after a couple of months, the boy still could not speak a single word nor communicate with others. Dannen came to realise that he should arrange appropriate treatments for his son as soon as possible. At that time, the three and a half year old child could only utter two syllables ─ "Dad Dad".
Dannen feels that there is a special bond between him and his son. He is often concerned about his needs and is eager to take care of him himself. As a result he quitted his full time job as a computer programmer to which he had worked for more than a decade. In the daytime, he attends to Rex's daily needs from going to school, doing homework to taking training courses. Dannen works as a part-time computer programmer for four nights each week and deliverer for a fast food restaurant on the other three nights. He also volunteers at Rex's training centre two days each week. With such a busy schedule, no wonder he falls asleep almost instantly when going to bed. Yet he only sleeps four hours a day.
In no more than four years, Rex has improved remarkably from articulating only a few syllables to now chatting with dad, suggesting where to play, and so forth. Sometimes, he even pours oil on troubled waters when his parents have a hot debate! Dannen shared happily, "During his first summer vacation, Rex could already speak simple sentences. Although his articulation was a bit awkward like a westerner speaking Cantonese, to me he has already taken a great leap forward!" Rex is going to study in an ordinary primary school this September. Witnessing his child's every little progress achieved, Dannen is overjoyed!